URFDEMIA training activities are meant for the inuit teachers and other human resources of the two schools of Puvirnituq, Ikaarvik and Iguarsivik, and Nuvviti School in Ivujivik. The schedule provides for three to four training activities that each amount to 3 credits (45 hours) per year and which are organized as intensive work sessions. The courses are mainly held at the Ikaarvik School in Puvirnituq, sometimes at Nuvviti School in Ivujivik. UQAT professors and lecturers go to this community to teach Inuit teachers who have been admitted to one of the three certificate programs available.
In addition to providing strong education training, the Educational Sciences Teaching and Research Unit at UQAT provides personalised guidance to all its students. Also, in order to ensure comprehensive training, the programmes offered cover all education aspects : foundations, disciplines, psycho-pedagogy, didactics, school management, measurement and evaluation, vocational guidance and educational technologies.
Indspire recipient 2017 Guiding the Journey: Indigenous Educator Awards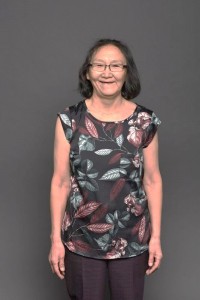 Siaja Mark Mangiuk, a graduate of UQAT and a member of the Inuit Teacher Training Co-Management Group, has been a valued collaborator in the partnership between two villages in Nunavik, Puvirnituq and Ivujivik, and UQAT, since 1984.
She won the prestigious 2017 Indspire "Leading the Way" Award – Aboriginal Education in the Culture, Language and Traditions category, presented last December 1 in Montreal.

Achieving this award is a fully deserved recognition for the essential work it has been doing for many years through its various implications.
EDU2234 Educational training project and institutional development
A first 3-days session training each, in each of the communities of Puvirnituq and Ivujivik.

Here are some pictures taken during the first session of the course in September 2017. This course is given in both communities to use teachers' materials already in schools. There were two days of training and the third day was an educational project with the children.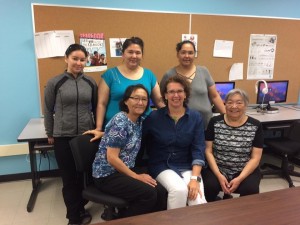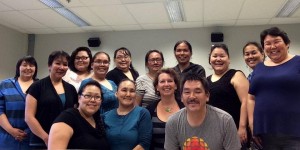 Ivujivik Puvirnituq
Exploration de nouvelles pratiques d'enseignement pour favoriser le développement de la compétence à écrire d'élèves anicinapek, innus et cris du primaire
Exploration de nouvelles pratiques d'enseignement pour favoriser le développement de la compétence à écrire d'élèves anicinapek, innus et cris du primaire
Ce projet de recherche-action vise à explorer une pratique d'enseignement de l'écriture respectueuse des dynamiques culturelles et sociales autochtones.
Chercheure : Yvonne da Silveira (UQAT)
Co-chercheures : Glorya Pellerin, Gisèle Maheux, Aurélie Hot (UQAT), Mirela Moldoveanu, Christiane Blaser (U. Sherbrooke)
Partenaires de milieu de pratique : Liliana Maria Marca-Vadan, (CS du Littoral), Fode Diarra (CS Crie), Julie Mowatt et Marguerite Mowatt-Gaudreau, Comité d'éducation, Conseil de bande Abitibiwinni
2012-2015
Inuit teacher training
Courses are designed and developed by professors and lecturers who work together with an Inuit co-teacher whose second language is English—the language of training. The co-teacher interprets the course content, translates it into Inuktitut, ensures the students understand, and provides the professor with feedback about the Northern schools context. Because some students have done their basic schooling in French, this third language is used in addition to the first two.
Training of a cohort of Cree students
From 2003 to 2010, UQAT worked with the Cree School Board (CSB) to develop and implement community teacher training. CSB representatives asked for a training program that would provide a cohort of students with regular teaching diplomas when they graduate.
Undergraduate short program in teaching a second language in an Indigenous context
As part of the Yawanda research project: Revitalization of the Huron-Wendat language (Dorais et al, 2007 à 2012), the First Nations Education Council (FNEC), on the initiative of Wendake school and with the collaboration of Pikogan school, asked UQAT in 2007 to develop a training program for teaching a second language in an Indigenous context. This language must be Indigenous and no longer spoken or threatened with extinction.
Our graduate students
Puvirnituq and Ivujivik students
First certificat (4340): 16 students currently enrolled; 28 graduate students
Second certificat (4740): 5 students currently enrolled; 11 graduate students
Third certificat (4840): 2 students currently enrolled
Firs Nation students
9 graduate students from Cree School Board in Bachelor in Preschool Education and Primary Teaching (7991-8091)
6 graduate students Innus and Huron Wendat in Undergraduate short program in teaching a second language in an Indigenous context (0376)

Sarah Angiyou and Lucy Qalingo - November 2016
Paulusi Angiyou - November 2013
Lucy Qalingo - November 2012
First graduate sutdents - 1993 and 2002